'The thing they said no major research university would ever do.'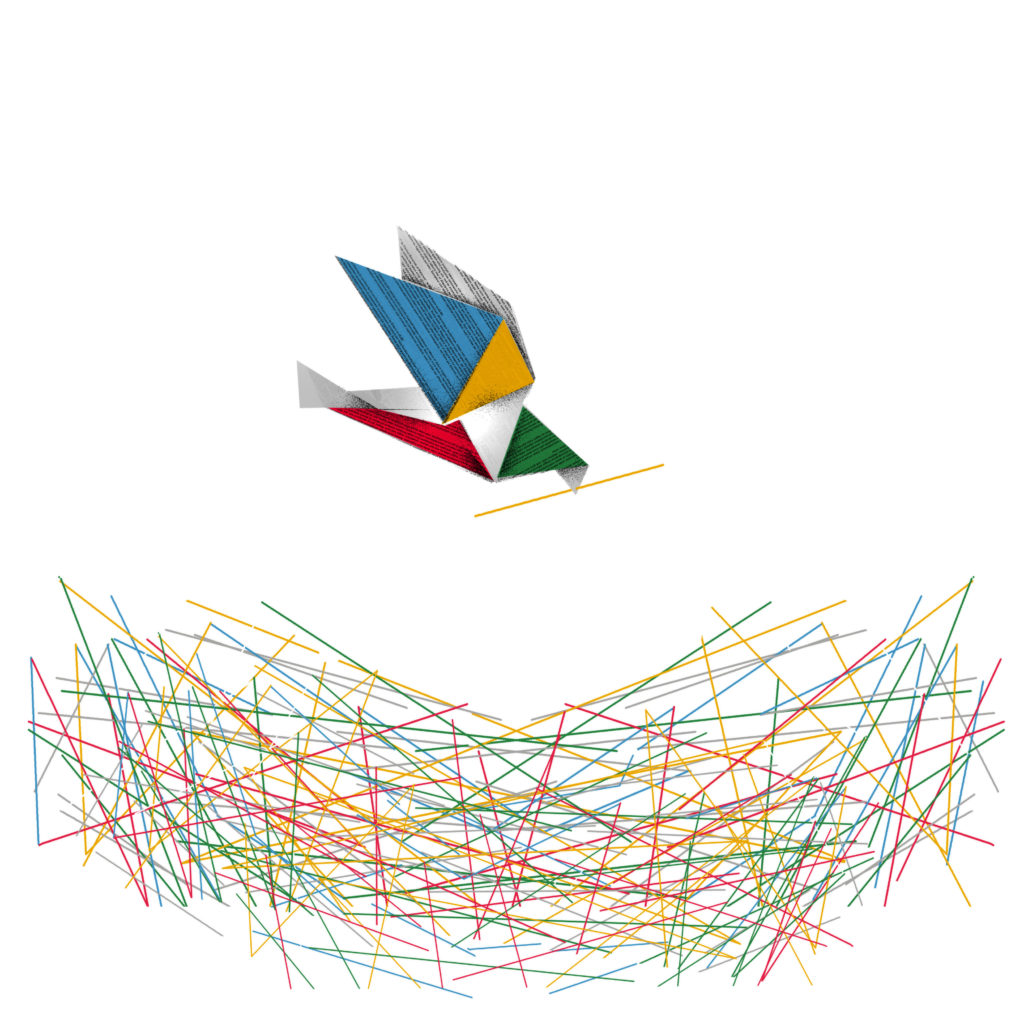 It was a bold move — but a necessary one. In February, the University of California announced its separation from Elsevier, the world's largest academic publisher. After months of negotiations, the company had refused to meet the university's key demands: to make UC research open access (available freely to all) and to contain the ever-higher costs associated with for-profit journals. Why the push for open access? Because the fruits of UC research — funded largely by taxpayers — should not languish behind a paywall. "We've got scientists who are discovering new solutions to human problems, but access to those discoveries is limited to those who can afford to pay for it," says University Librarian Jeffrey MacKie-Mason, who helped lead the Elsevier negotiations. "That is terrible for society." Now, UC has taken a stand. The university recently entered into a transformative agreement with Cambridge University Press. The partnership is UC's first open access deal with a major publisher and Cambridge's first such deal in the Americas.
Top accomplishments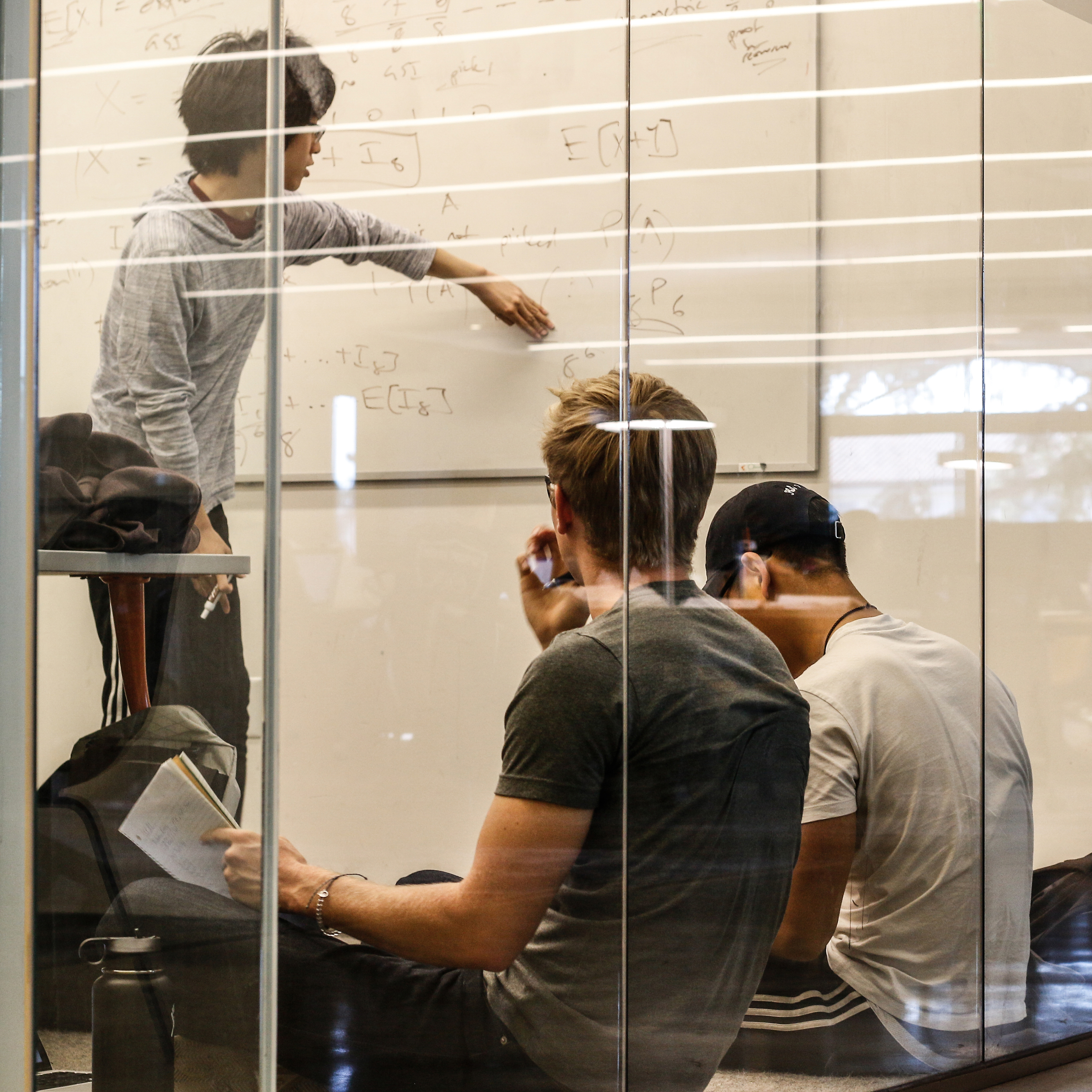 A new dimension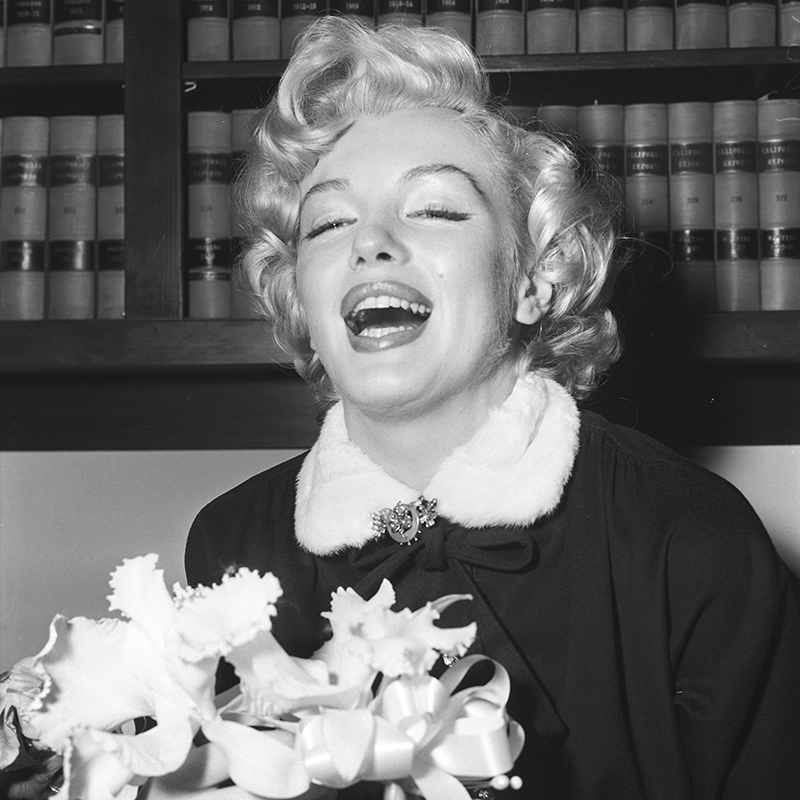 The West, up close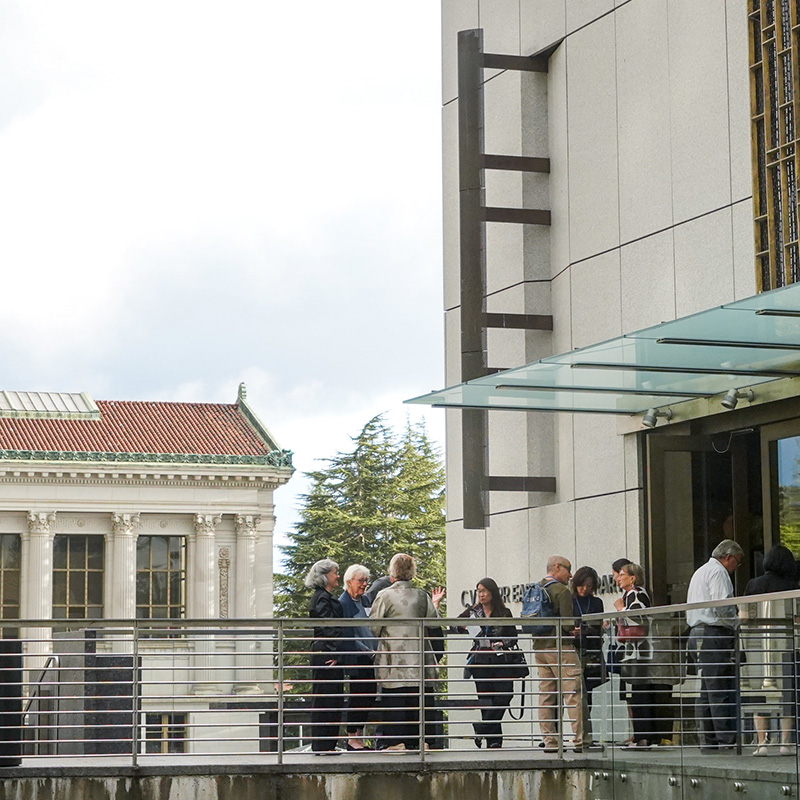 From East to West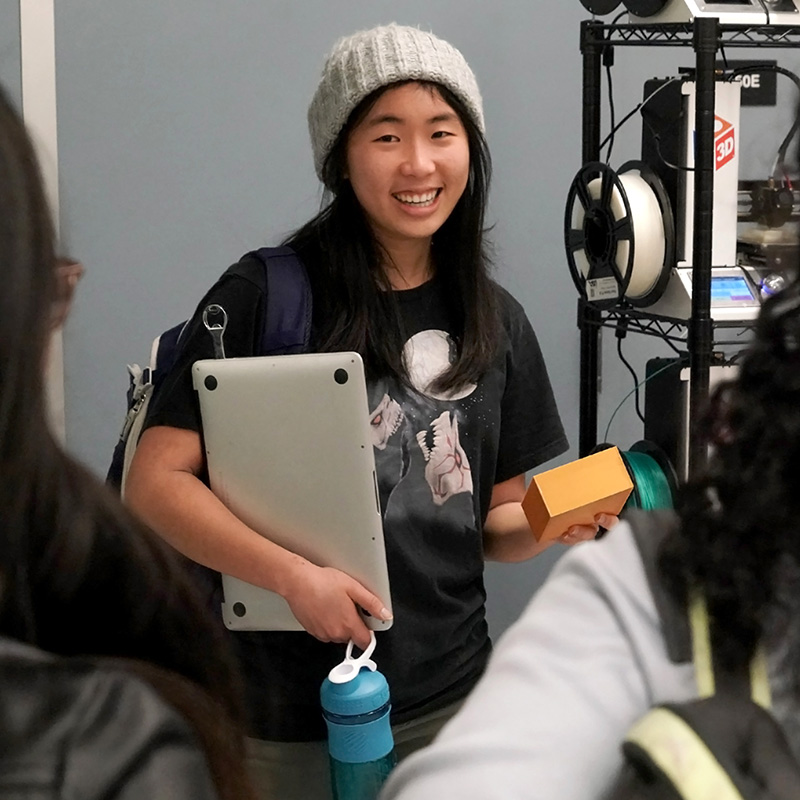 Where students find their story
At the Library, we help students navigate an ever-changing world of information. At the heart of this mission is the Center for Connected Learning at Moffitt Library. Last fall, the Library hired BNIM, an architecture and design firm, to map out the future of Moffitt's first three floors. (The redesigned top two floors opened in 2016.) Susan Chamberlin M.B.A. '87 — who, with her husband, Steve, donated $1 million to support this new vision — says the Center for Connected Learning "takes Moffitt into a new dimension." The reimagined space will include a skylit courtyard where students can learn directly from experts (and one another); a media production lab; environments to explore virtual reality; and Berkeley's biggest active learning classroom. "It's an exciting step (that will be) key to allowing Berkeley students to make discovery part of their experience," she says.
Albert Einstein's cherubic grin. The stoic contemplation of activist Russell Means. An impossibly broad smile from Marilyn Monroe. This year, these faces, along with many others — both famous and lesser-known — filled the gallery at The Bancroft Library for a two-part exhibition. Showcasing some of Bancroft's pictorial gems, Facing West brought into view photographs of people who helped shape the region, from the mid-1850s onward. The exhibit flows from a broader initiative, Bancroft & the West, which aims to connect Bancroft's world-class Western Americana materials with the diverse communities the collection represents.
In the fall of 2018, the C. V. Starr East Asian Library celebrated a decade in its new home, built to unite and protect the campus's Chinese, Japanese, and Korean materials. "This is a very special facility — not only for Berkeley, but for academic communities in this country and beyond," says Peter Zhou, the library's director. Today, the space serves as a bridge from East to West. In support of that vision, the Soong family recently established the James Soong Archive Fund, to help maintain the personal papers of its namesake, a UC Berkeley alum and founder of the People First Party of Taiwan.
The Library helps students discover the world — and their potential in it. In 2018, the Library launched an undergraduate fellowship program to nurture the diverse skills across campus, from data analysis to media production. This spring, the fellows created a DeCal, or student-led course, in Moffitt Library to share those skills with others. Student expertise pulses throughout the Library, where our Work+Learn program connects students with jobs unique to them — from cataloging in a variety of languages to conjuring complex data visualizations. "We believe that there are three most important things to nurture the civilization: to feed the people, to heal the people, and to teach the people," says Rishi Kant, who helped fund the Work+Learn program with his wife, Jan Borstein, this year.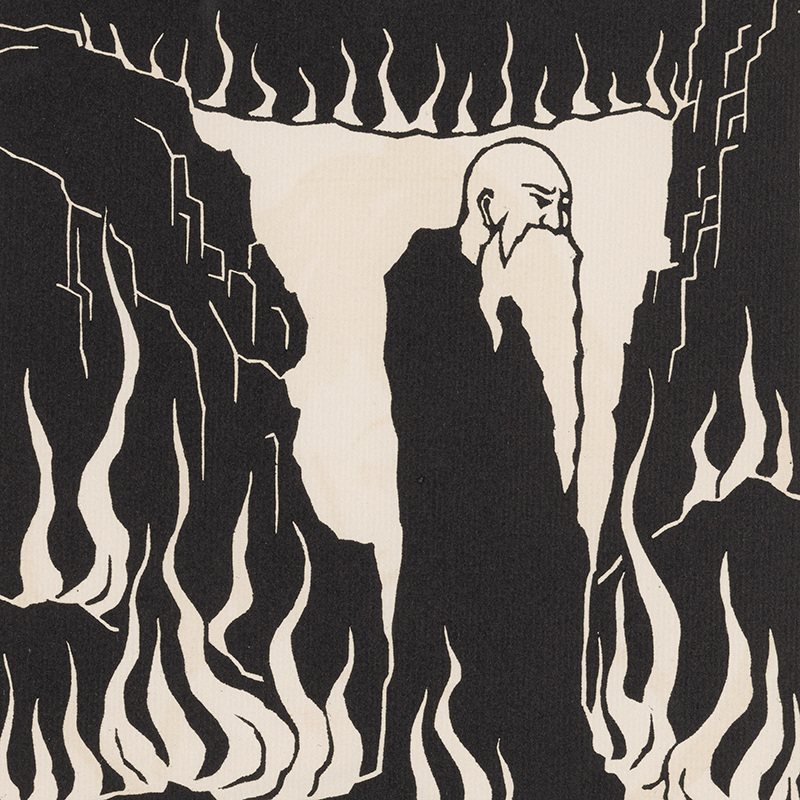 Copyright kaboom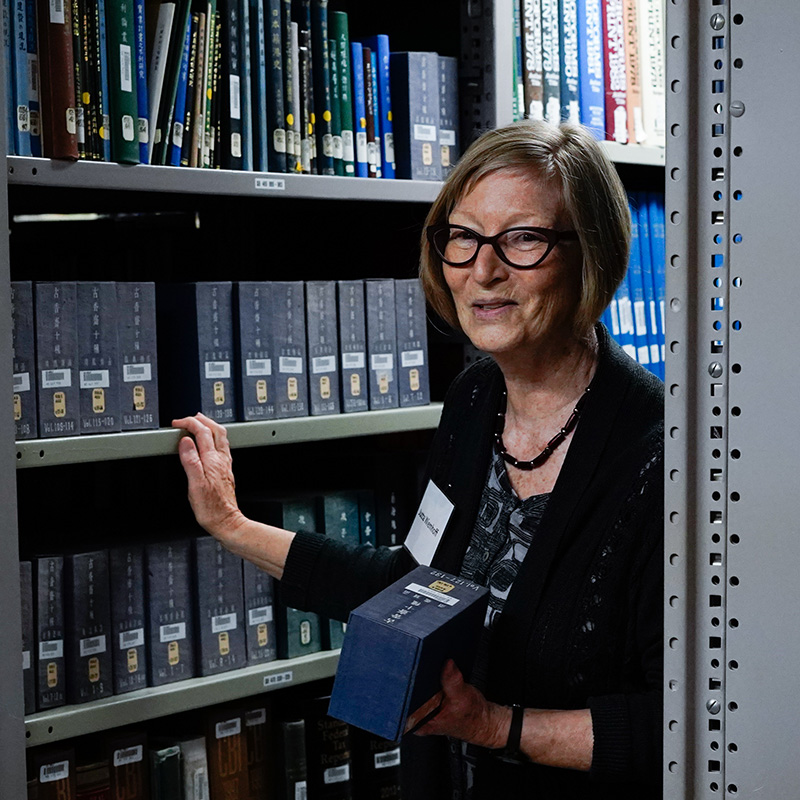 Our wisdom, stored
From story to screen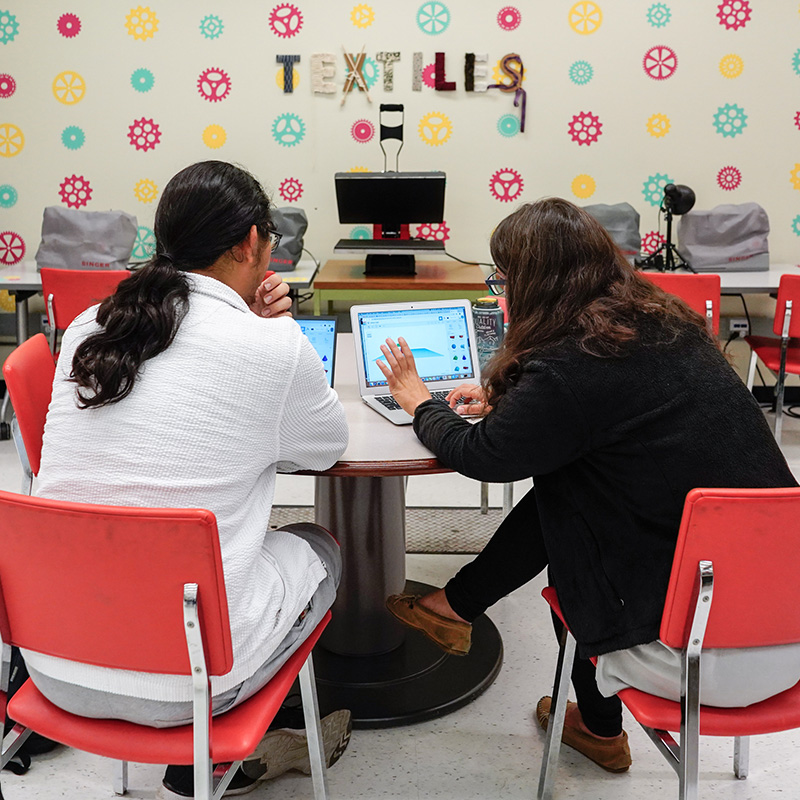 Makerspace Makeover
On Jan. 1, 2019, hundreds of thousands of works published in 1923 came rushing into the public domain in a mass expiration of copyrights observed as Public Domain Day — the first such release in more than two decades. The Library marked the occasion by digitizing about 50 items never before available online. "We wanted to add something that was unique to the mix that will be available for use by the world," says Rachael Samberg, who leads the Office of Scholarly Communication Services. "By digitizing it and making it available to everyone, we're able to contribute to global knowledge." Among the digitized works are stunning Japanese woodcut prints; harrowing photographs of Berkeley's 1923 fire; and an itinerary for a road trip through "California's Scenic Wonderland."
Just 7 miles from the Berkeley campus sits a vault of information, crammed with knowledge wall to wall, floor to ceiling. The Northern Regional Library Facility, or NRLF, stores "the collective wisdom of generations," as University Librarian Jeffrey MacKie-Mason puts it, and ships those pearls to libraries across the University of California system and beyond. With the threat of the warehouse filling up, a plan emerged: to grow. This year, ground broke on the new expansion of NRLF. In its next chapter, NRLF will continue to serve as an oasis of information where knowledge can be stored — and shared — for years to come.
The club of authors who have seen their works go from novel to Netflix is a rather exclusive one. But at this year's Luncheon in the Library, guests heard from two of its illustrious members: Annie Barrows '84 and Vikram Chandra (who teaches creative writing at Berkeley), in a conversation led by David Duer, the Library's former director of development. The authors united onstage in Doe Library for a genre-crossing conversation about their books, their craft, and what it was like to see their novels leap from page to screen. Chandra is the author of 2006's Sacred Games, and Barrows co-wrote, with her late aunt Mary Ann Shaffer, 2008's The Guernsey Literary and Potato Peel Pie Society. The adaptation of Sacred Games is Netflix's first original Indian series, and the film version of Guernsey stars Lily James, of Downton Abbey.
Sewing machines, soldering stations, 3-D printers, and a whole lot more. This year, the Library built up Moffitt Library's Makerspace, equipping the creative hub with a suite of new tools and materials for Berkeley students. The space is led by Annalise Phillips, who was hired as the Library's first maker education service lead this spring. In that role, Phillips helps build a community of tinkerers and inspire new ways of making — from knitting one's own clothes to making radical laptop stickers. "I believe in the value of democratizing access to tools and the skills to use them, and the Moffitt Makerspace does exactly that," Phillips says. "Learning to make things is really about taking ownership over product consumption. If you have the right skills, you can choose to make something rather than buy it, ... and I find that very empowering."
Just use it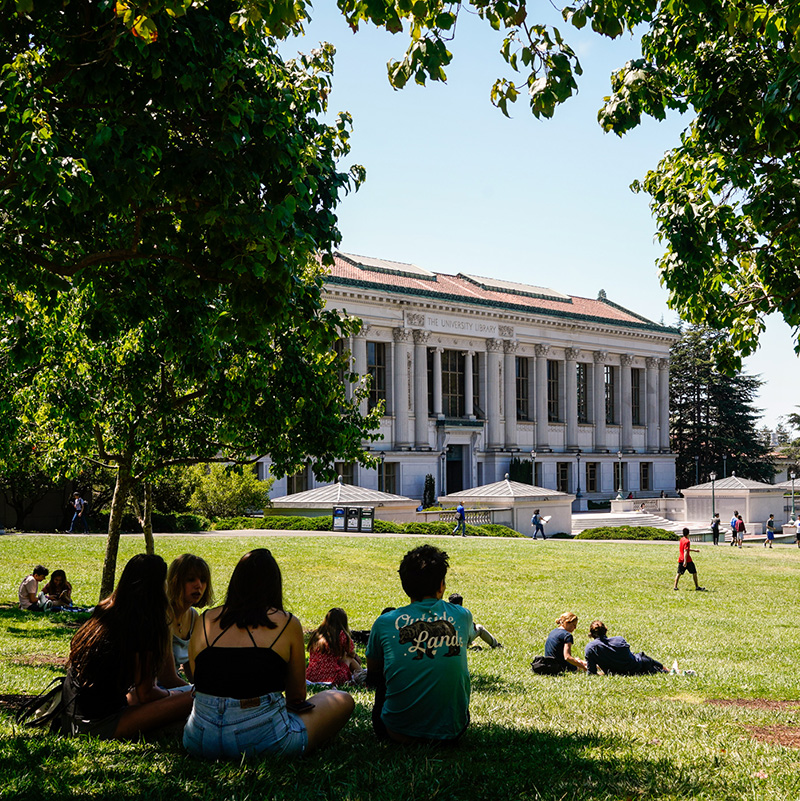 Gifts that keep on giving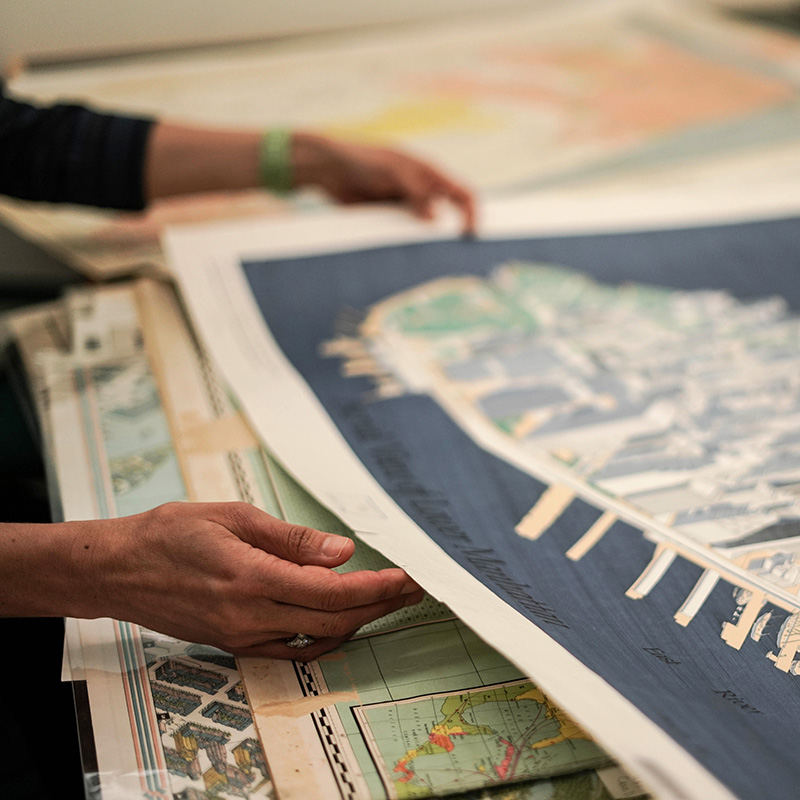 Mapping our way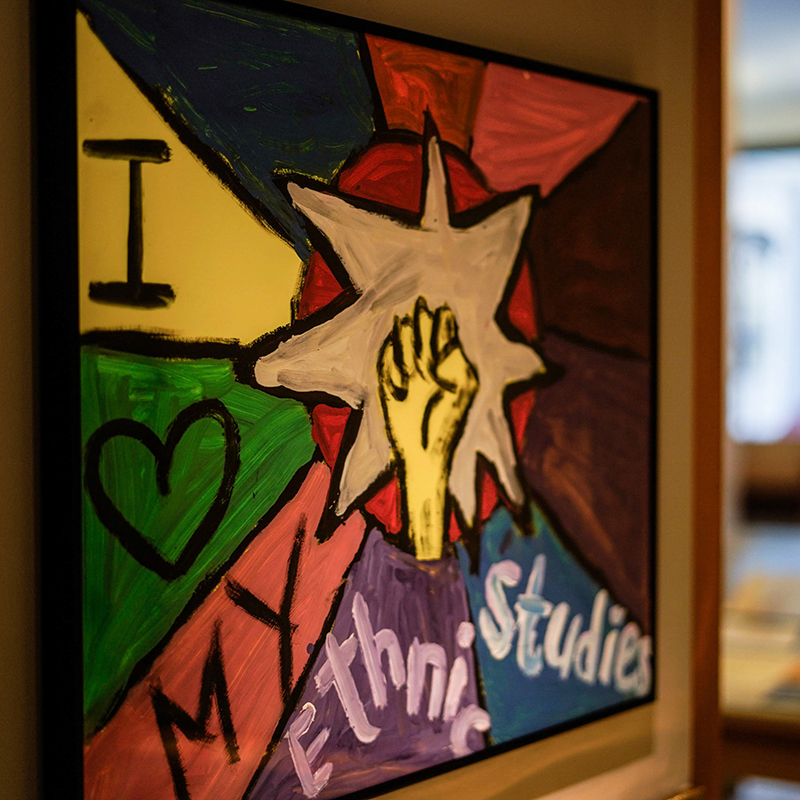 Legacy marches on
For decades, many museums, archives, and libraries — including the UC Berkeley Library — have required researchers to get their approval and, sometimes, pay for permission to include excerpts or images in their scholarship. To foster a more researcher-friendly environment, a progressive new policy across all of Berkeley's libraries does away with these hurdles. The new policy, for example, allows researchers to publish the picture above (of the devastating 1923 Berkeley fire) in their books or articles without having to pay a fee to, or ask permission from, the Library. "(The policy) is a direct reflection of our goals and values to advance knowledge and support research, teaching, and learning," says Mary Elings, assistant director and head of technical services at The Bancroft Library, who played a leading role in developing the policy.
Each year, UC Berkeley throws a 24-hour campuswide fundraiser in the name of supporting the university's students, faculty, and research. In the fifth year of Big Give, the Library saw an outpouring of philanthropy, helping ensure we can share knowledge, inspire and enhance research, and empower scholars for generations to come. Maureen Orth '64 — journalist, author, Emmy winner (The Assassination of Gianni Versace: American Crime Story), and founder of the Marina Orth Foundation, in Colombia — was among the people who extended their generosity for Big Give. "You study at the Library, of course, but you also crash at the Library, you flirt at the Library, the Library gives you the answers," says Orth, who relied on it as an undergraduate studying political science at Berkeley. "It's one of the anchors of the university. Cal could not maintain its excellence as a world-class institution without the Library."
Life on Mars. Manhattan underwater. This year, the Earth Sciences and Map Library explored hot topics through its hit pop-up exhibit series, Maps and More — a unique mix of maps, graphs, photographs, and, yes, more. In a happy twist, several of the exhibits were curated alongside undergraduate classes this year. Maps of the Southern Border emerged from a Library training for graduate student instructors in a geography class (which later asked students to reflect on the exhibit). And a pop-up on climate change fiction, or cli-fi — a genre that imagines environmental catastrophies — was guided by a librarian's work with a dystopian literature class. The exhibit paired novels' doomsday climate scenarios with maps outlining their potential reality. "The maps in the collection help people understand where we are now, and where we're going," says Susan Powell, geographic information systems and map librarian.
On Jan. 21, 1969, a strike broke out on the Berkeley campus. Shortly after demonstrations gripped San Francisco State, a cross-cultural coalition of students began to take action at Berkeley, calling for an inclusive education, with classes envisioned — and taught — by people of color. Today at Berkeley, their legacy lives on: The movement ultimately birthed the departments of ethnic studies and African American studies, which became models for programs like them across the country. Last year, an exhibit marking the strike's 50th anniversary, called Whose University?: The 50th Anniversary of the UC Berkeley Third World Liberation Front Strike, filled Doe Library's Brown Gallery with memories from the movement and connections to modern battles, from the fight for inclusion to the struggle against police brutality.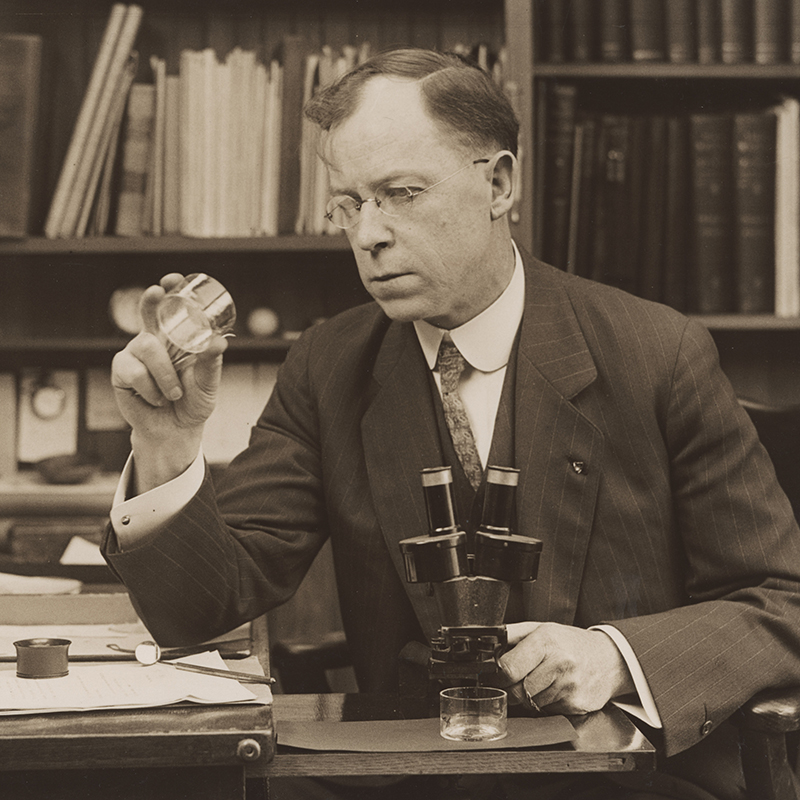 New year, new gems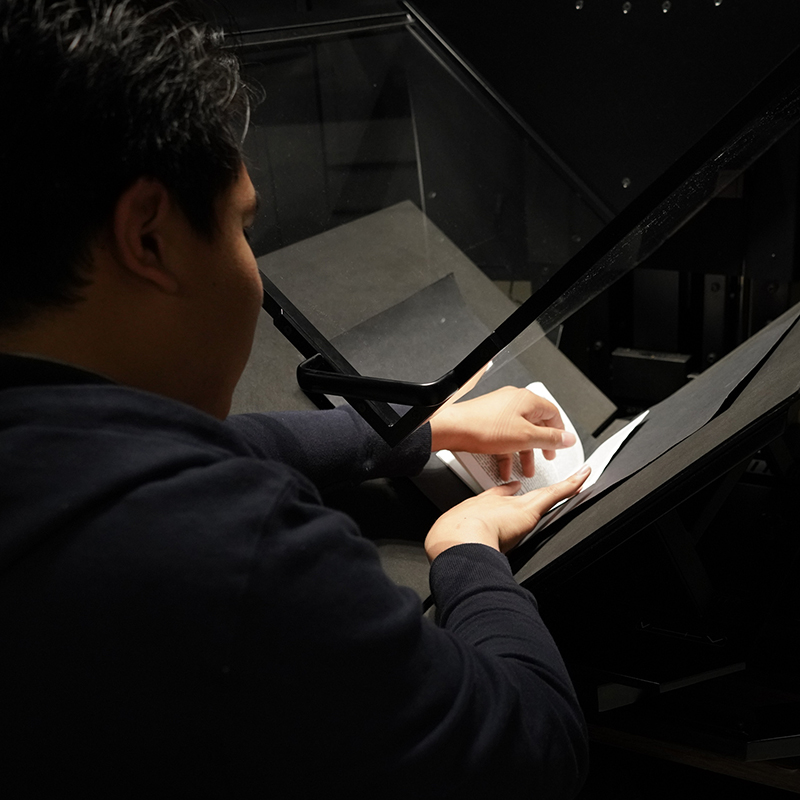 This digital life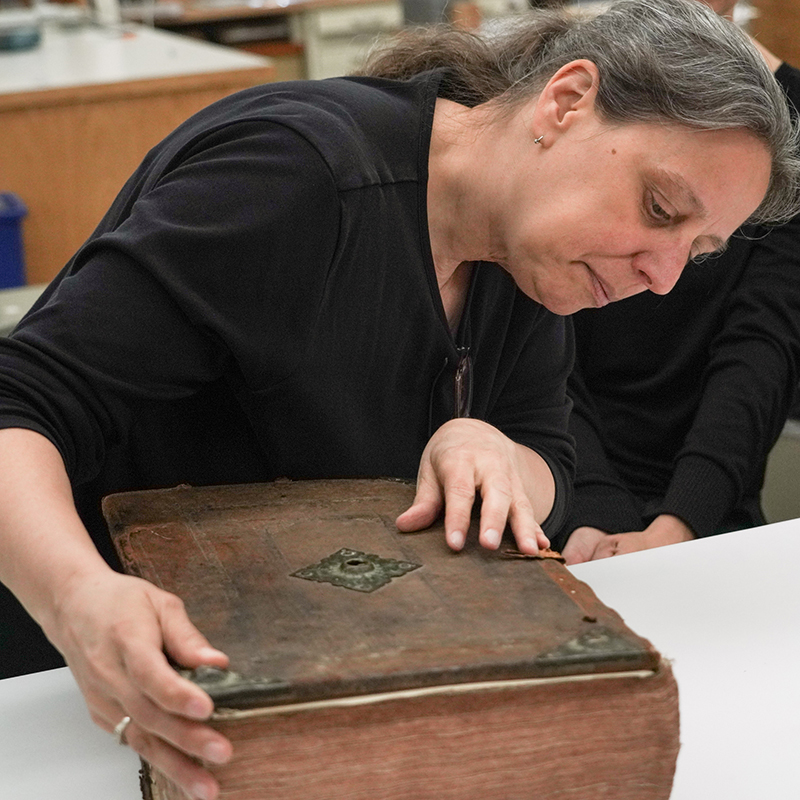 History's second life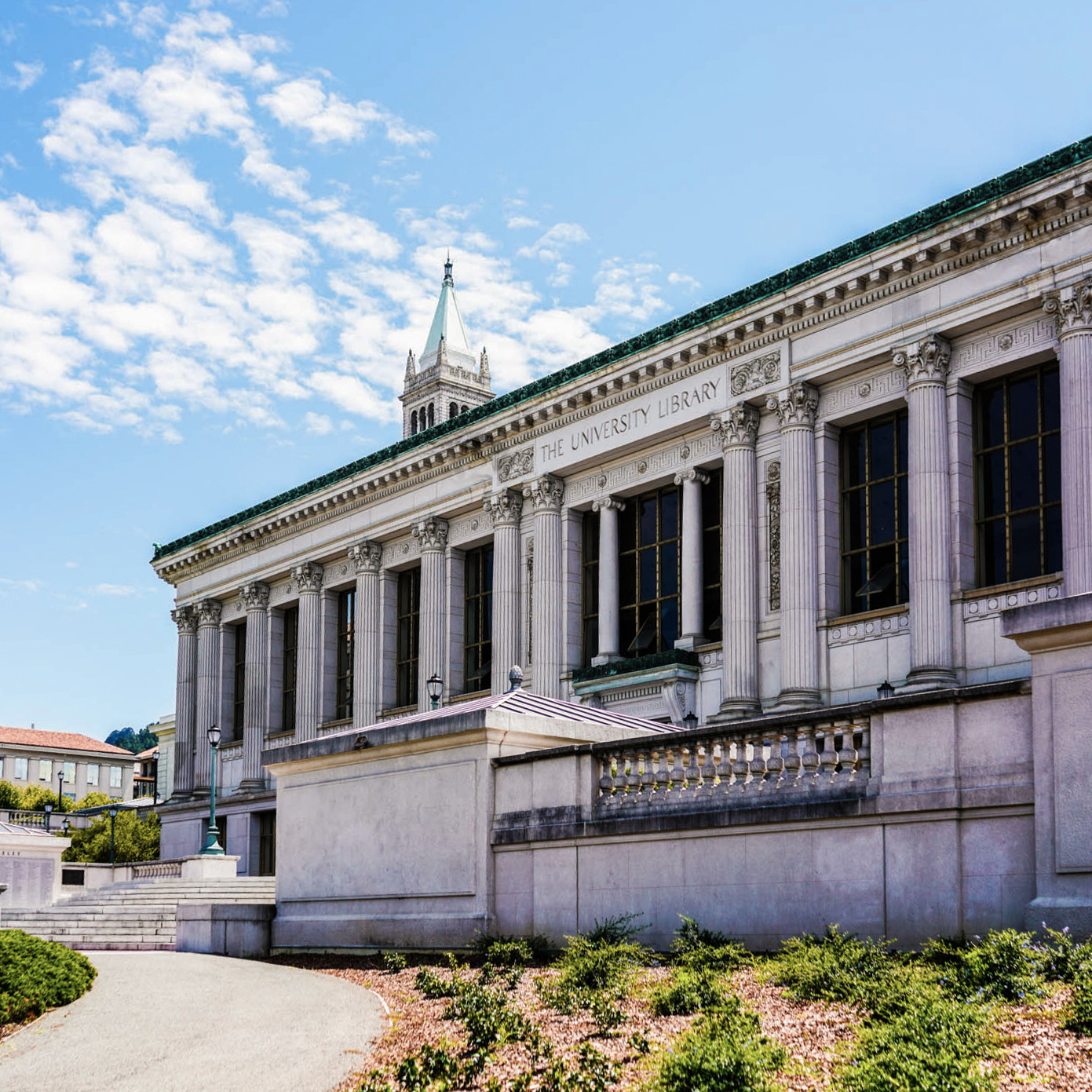 Driven by data
This year, we built upon the Library's already robust collections and opened up a bounty of materials to researchers. The Library began providing access to the USC Shoah Foundation's Visual History Archive, a streaming video collection with more than 50,000 firsthand testimonies of the Holocaust and other atrocities. Berkeley researchers can now access ,)المنظومة( the Almandumah Arabic Database among the largest databases of Arabic scholarly materials in the world. And The Bancroft Library made available the collection of criminology pioneer Edward Oscar Heinrich.
At the Library, we not only share our materials with Berkeley's scholarly community — we digitize them and make them available to the world. This year, we ramped up our digitization efforts again. The materials we digitized include over 75,000 images of Latin American literary journals; more than 30,000 images of rare books in the Environmental Design Library; and nearly 300,000 images of soil survey reports from the Bioscience, Natural Resources & Public Health Library.
Conservators in the Library's Preservation Department restored treasures from around the world — including a Bible purchased by Mark Twain for his mother while in Jerusalem, bound in "balsa-wood from the Jordan, oak from Abraham's tree at Hebron, (and) olivewood from the Mount of Olives," as Twain writes in a letter; a 1791 letter from Alexander Hamilton to his lawyer, William Rawle; and volumes of Fantoches, a rare Venezuelan periodical satirizing 20th-century dictators. The team reattached the Bible's spine and cover, repaired a tear across Hamilton's signature, and disbound and mended the journals to prep them for digitization.
How do we empower ourselves to make informed decisions that shape the Library, its collections, and its services? By relying on data. The Assessment Program, established in 2017, was designed to equip the Library with the information we need to adapt and evolve. Last fall, the program launched a survey to gain insights into Berkeley's faculty, with questions on open access, textbook costs, students' research skills, and other topics. The results of the survey will help the Library meet the diverse needs of the university's scholarly community.