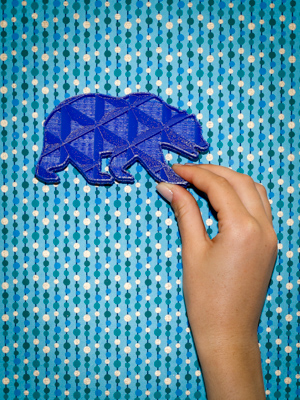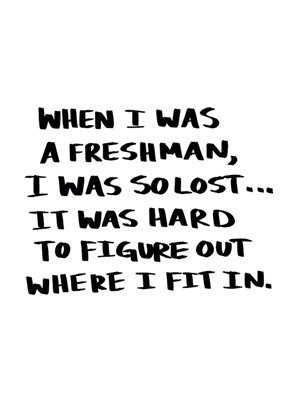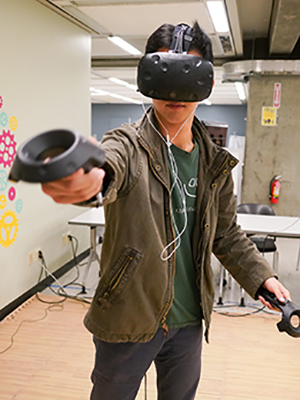 Today is April 20, on the UC Berkeley campus. It's a lovely sunny day, save for the large, light-gray cloud wafting over Memorial Glade, where thousands of students have packed together for a celebratory blaze.
Just around the corner, in Moffitt Library's basement, there's a different kind of party: Five friends are huddled around a computer, shouting and laughing as one of them swipes her fists in the air, fending off the barbarian charging at her with a club.
They carry on for a couple of hours, each taking a turn with the virtual reality headset. Meanwhile, they help one another with homework, feast on junk food, and chat about life.
"So, yeah, this is how we spend our Friday nights," says Alicia Auduong '19, smiling.
In other words: Never mind the festivities on the Glade — we have all we need right here.
The students hail from b.Makerspace, an umbrella body of student design and innovation clubs based on Moffitt's first floor. Auduong is the vice president of b.Makerspace, and one of two Makerspace fellows in the Library's pilot program.
Like each of the fellows, Auduong's job is to help the Library break barriers — in this case, the walls that students put up between one another.
"When I was a freshman, I was so lost," Auduong says. "I kind of had friends — a couple of my high school peers — but I've always had a tinkering-type personality, and none of my friends were really into that. It was hard to figure out where I fit in."
Moffitt's Makerspace is known for its 3-D printing and virtual reality stations. At a glance, that can paint it as a space for engineers or programmers. For Auduong — a bioengineering major with a minor in classics — that's a travesty.
"VR and 3-D printing, they all have roots in engineering, but they're not for engineers — they're for everyone to use," Auduong says. "We want to bring in students who say, 'I'm an English major, but I also know how to code, and I know how to write stories in VR that really touch people.'
"Where are the people who really want to make it worth something?" she continues. "A technology isn't useful until it's worth something."
Finite space, infinite ideas
As part of their fellowship work, Auduong and Nikki Panditi '18, the other Makerspace fellow, spent the spring semester reimagining the Makerspace, recruiting students from nontechnical fields and reaching out to clubs to expand the b.Makerspace cohort. The goal is to smash boxes and labels, and build a community from the pieces.
The fellows have also been working alongside Jean Ferguson, the learning & research communities librarian, to redesign Moffitt's first floor, examining how the space can better promote teamwork and tinkering.
"Why not build your own heart monitor? Why not check your own pulse?" says Auduong, who hopes to pursue a career in medical devices after graduating. "All the technology you need is right here on campus. You can build something that's already been built, or you can build something that's never been built."
For Ferguson, it's that kind of forceful imagination that inspires librarians to keep moving.
"We're really good at keeping the machines going: The clocks are always wound, the equipment is up and running," Ferguson says. "What the students do is they push us to innovate — to consider new technologies and new ways to think about the space."
Ferguson hopes the b.Makerspace clubs — whose interests range from food waste to emergency response robots — can hold open houses and workshops for the campus community to show off their technologies and passions. Through that openness, the Library can inspire new partnerships and redefine what's possible, Ferguson says.
"We want data science people to talk to engineering folks," says Josh Quan, the data services librarian. "We want engineering folks to talk to digital humanities folks."
For Nicole Brown, who mentors the library research fellows, the community-building in the Makerspace is a rough blueprint for how the Library aims to serve students in the future. As the Library begins to imagine how the first three floors of Moffitt Library can transform into the Center for Connected Learning, Brown hopes to build a new kind of reference desk — one bustling with students, with no shortage of talents and ideas.
The Center for Connected Learning, which has already taken over Moffitt's top two floors, will not only be a gateway into the Library's resources, but a hub for students of all levels to explore together.
"We're not going to plop a traditional reference desk in there, we know that," Brown says. "It's going to be something way more permeable and messy."
For now, it's still theoretical. But little by little, librarians hope the fellows can show them the path forward.
'I'd like to keep going'
It was a couple of years ago that Auduong first stumbled into the Makerspace. She had just come from a depressing job recruiting session, and it was pouring rain outside.
"I walked in, and someone asked me if I wanted to learn how to 3-D print," Auduong says. "And I said, 'Yes,' because I was crying, and I had nothing else to do that day."
Today, April 20, is also Auduong's birthday. Panditi, the other Makerspace fellow, has made her a giant cake, and Auduong is surrounded by friends.
Next year, Auduong will be president of b.Makerspace. She hopes to build up a community in that space, so that others can benefit from the kind of support system she found when she needed it most.
"Freshman year me? I cringe at the thought," Auduong says. "I think of myself now, and I'm not perfect — I have so much growing to do — but I'm still paces ahead of where I used to be.
"I'd like to keep going," she says. "Makerspace was a foundation from which I felt secure enough to keep going."
Virgie Hoban
July 2, 2018