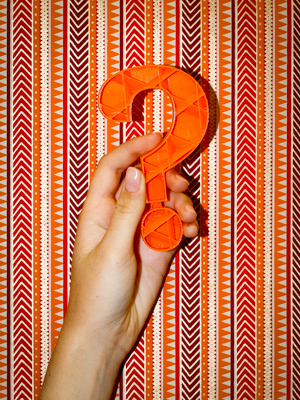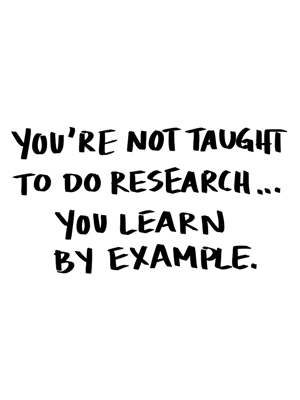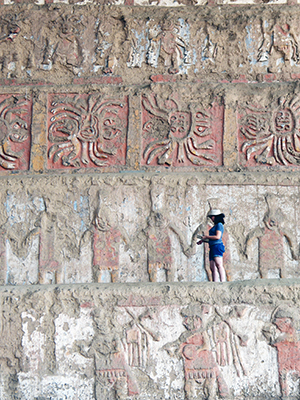 It's 8 in the morning, and Gabriella Wellons '18 is crouched in front of the ancient murals of Huaca de la Luna, or temple of the moon, just outside of Trujillo, Peru. She traces into her notepad the thin marks covering its walls, capturing glimpses of a culture nearly 2,000 years old.
It's the first such study of the art ever completed.
The site, originally an urban and religious center built by the Moche civilization, covers almost 55,000 square feet of sprawling desert in arid, coastal Peru, where the dirt is bone-dry and the sun beats calmly over everything.
Wellons' assistant complains — he's hungry, it's hot — but Wellons carries on. She'll spend the next seven weeks here, each day returning for more.
That was one year ago, the summer before Wellons' final year at UC Berkeley. For her senior thesis, Wellons found, measured, and recorded 88 unique incisions covering the ruins, and used GPS technology to mark the location of each grafittilike carving. By noting where the graffiti appeared — in intimate spaces versus public rooms, for example — Wellons was able to speculate what the graffiti's purpose might have been.
"Going to the site was definitely an eye-opener," says Wellons, an art history major. "Like, oh, this is what I want to do."
Flipping the model
Wellons was a digital humanities fellow in the Library's Undergraduate Fellowship program. She has taken a smorgasbord of classes in the digital humanities — from geospatial analysis (marrying coordinates with visuals) to photogrammetry (creating 3-D models using lots of pictures). As a fellow, she spent the past semester sharing that knowledge with others.
Ultimately, the premise of the fellowship is that undergraduates are not just students, but researchers and creators — and it's up to the Library to build up and leverage that potential.
"There's this traditional model where librarians are the experts, the professor is the expert, some 'XYZ' person is an expert," says Josh Quan, the data services librarian. "They are experts in their own right, but there's a lot of diversity in the kinds of expertise that exists.
"We have to adapt to how people learn, and it can't just be in this top-down model," Quan says.
Especially in the digital humanities, people learn side by side, says Stacy Reardon, the literatures and digital humanities librarian. "It's much more exploratory and involves teamwork," Reardon says.
Wellons, for instance, specializes in the digital humanities, but she's still exploring data visualizations. At the help desk, she walked students through the software and tutorials that have helped her along the way.
"I'll say, 'I don't really know how to do this, but I can try to figure it out with you,'" Wellons says.
Being an expert doesn't mean you have to know everything, librarians emphasize. A lot of the fellows' training involves learning the web of resources on campus, so if students ask about something outside their comfort zone, fellows can at least point them in the right direction.
"The ethos of this program is it's OK not to know," Quan says. "There's always this anxiety as a Berkeley student that you've got to know it all. But it's unrealistic."
The path forward
When it comes to research, Quan says, most people just need a place to start. At the desk, fellows help students brainstorm research questions and puzzle out ways to solve them.
"It's in part technical help — how do I do this thing with this data — but you also end up talking about research design and the question," says Ross Mattheis, one of the data science fellows. "You get contact time with undergraduates who have already been involved in research and are a tiny bit further in the process.
"That's a really good supplement to the learning process, where you're not taught to do research so much as you learn by example," he says.
At the beginning of the semester, Mattheis helped a student clean up some data for her economics honors thesis. The student came back for help each week for nearly the whole semester.
In the fall, Mattheis will pursue a Ph.D. in economics, exploring economic inequality and social mobility. This past semester, as part of his fellowship, he worked to digitize parliamentary election results, records of social welfare spending, and crime statistics in mid-19th century England, looking for correlations between the three.
It's a complicated project, with many moving parts and programs. So, as part of his fellowship work, Mattheis created a guide to outline the research process and the Library resources he used, shining a light for future scholars who may feel lost in the dark.
"The idea is to put out what the research path looks like, and hopefully it won't look like a linear path — that I did this, and I did this, and I was done," Mattheis says. "We want to show a little bit more reality in how research goes. Maybe you took a right fork, that didn't work out, so you had to backtrack and restart."
Virgie Hoban
July 2, 2018