We inspire conversation.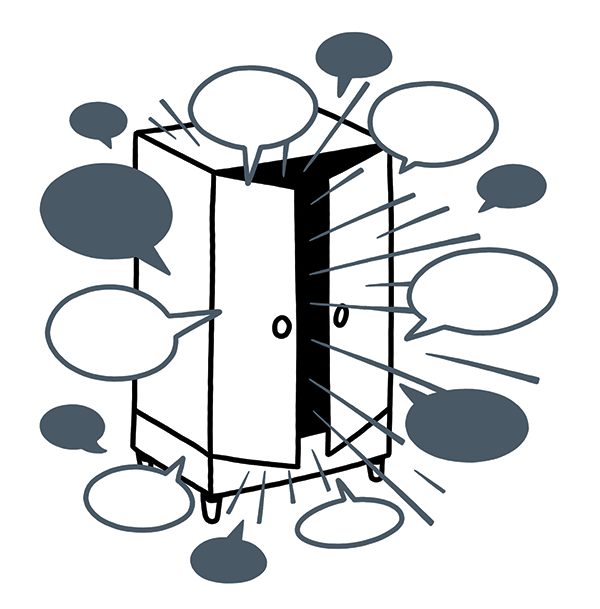 Out of the closet and into the light
For curators, getting feedback on an exhibit is part of the job. But this time — this exhibit — was a bit different. "I don't think we were expecting to see so many personal stories in the comment book," says Jesse Silva, one of the lead curators of We're Here, We're Queer, We're in the Public Record!, which filled Doe Library's Brown Gallery for six months, illuminating stories from the LGBTQ movement through government documents, art, posters, and other materials from the UC Berkeley Library's collections. By the end of the exhibit's run, comments from around the world had poured in, ranging from heartwarming to heartbreaking. For Susan Edwards, part of the eight-member team behind the exhibit, working with the exhibit materials was an "incredibly moving" experience. "Seeing that it also touched our viewers — bringing tears to some, hope to others — was profoundly affecting," she says.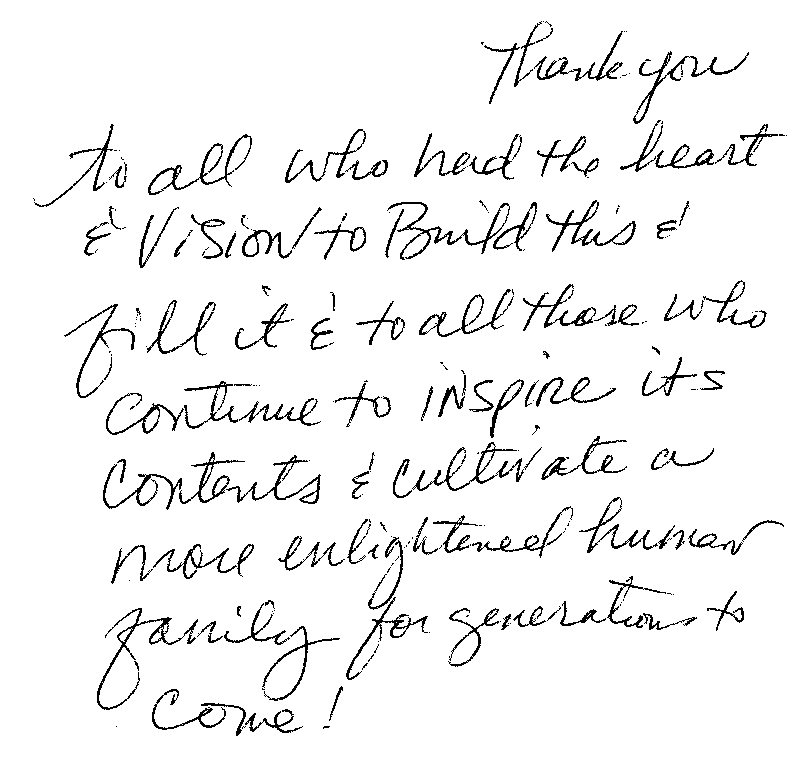 Thank you to all who had the heart and vision to build this and fill it and to all those who continue to inspire its contents and cultivate a more enlightened human family for generations to come!
Thank you for this beautiful exhibit and speaking truth to power.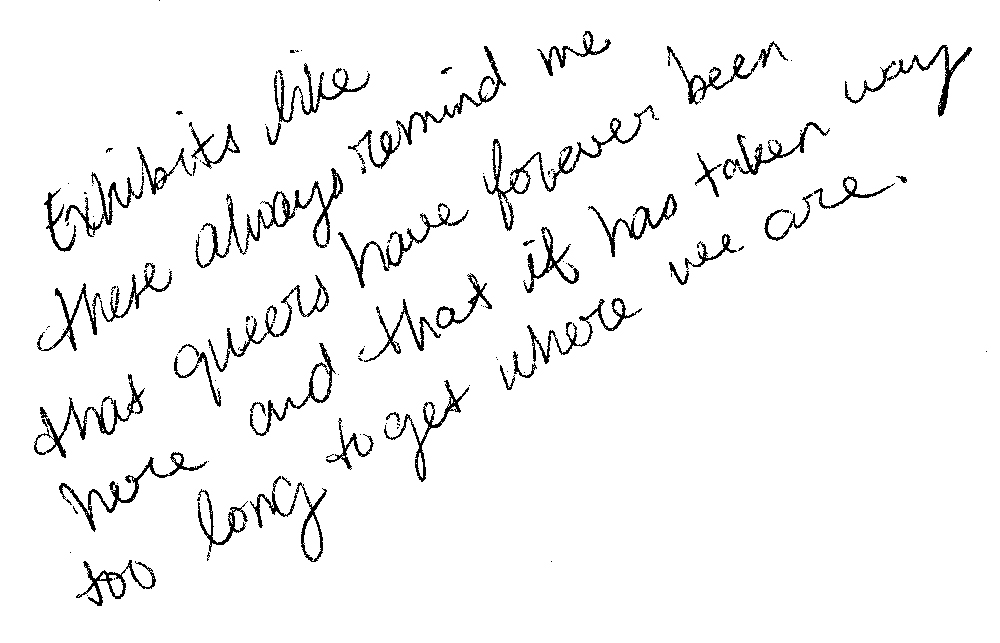 Exhibits like these always remind me that queers have forever been here and that it has taken way too long to get where we are.

I remember …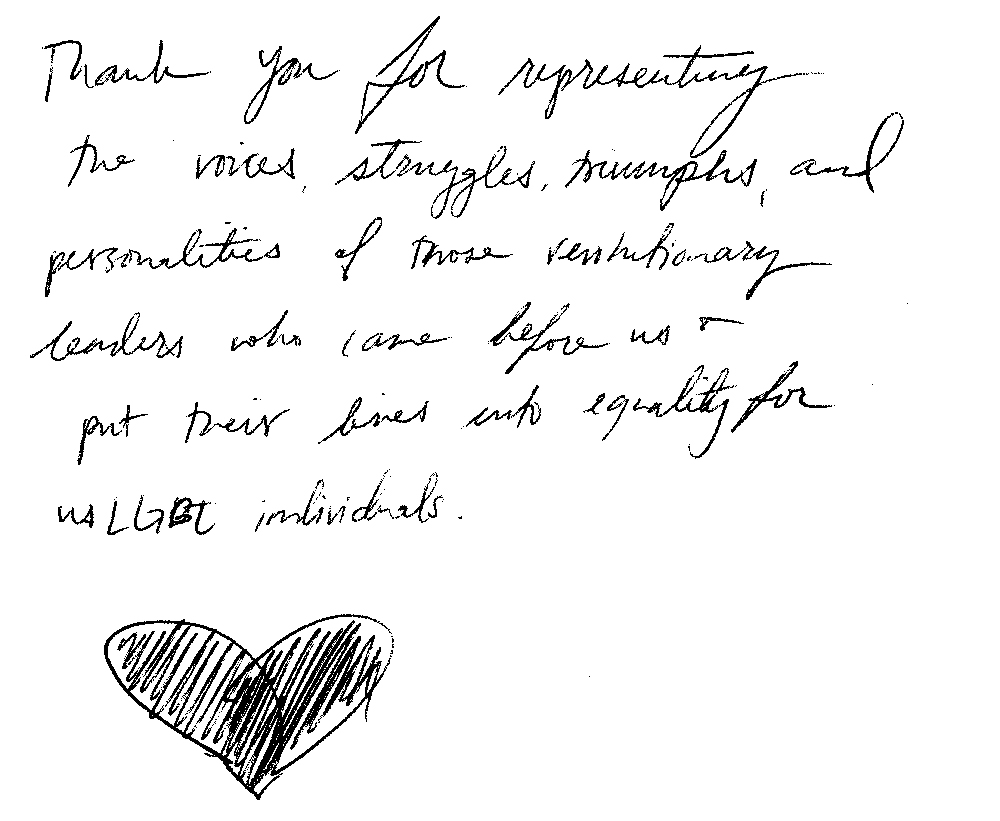 Thank you for representing the voices, struggles, triumphs, and personalities of those revolutionary leaders who came before us and put their lives into equality for us LGBT individuals.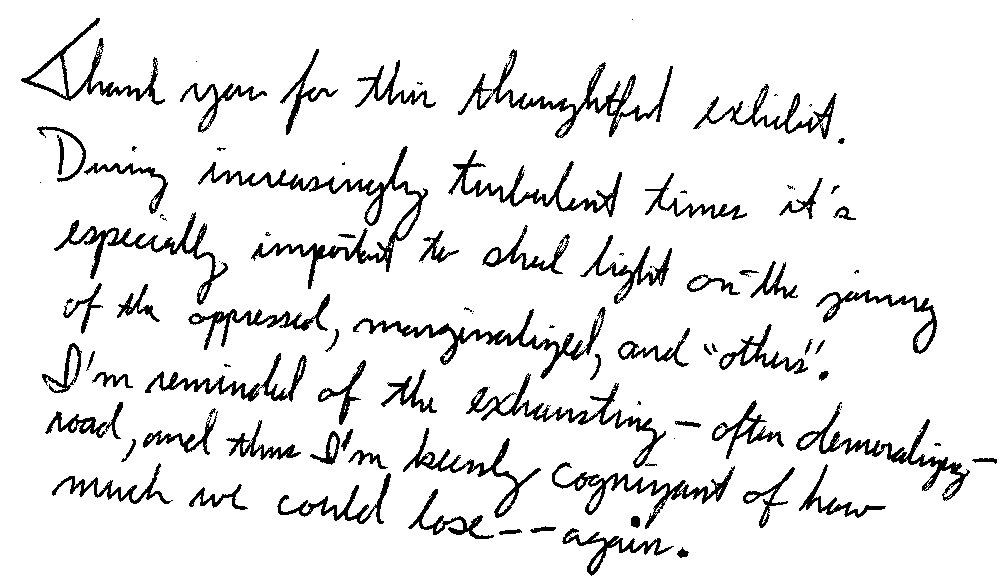 Thank you for this thoughtful exhibit. During increasingly turbulent times it's especially important to shed light on the journey of the oppressed, marginalized, and "others." I'm reminded of the exhausting — often demoralizing — road, and thus I'm keenly cognizant of how much we could lose — again.
This was a very moving exhibit. My wife and I married on September 28, 2016, just over a year after gay marriage was legalized. We shed a few tears when we came (to) that part of the exhibit. My wife is from Brazil and without being legally married we could not live in the same country.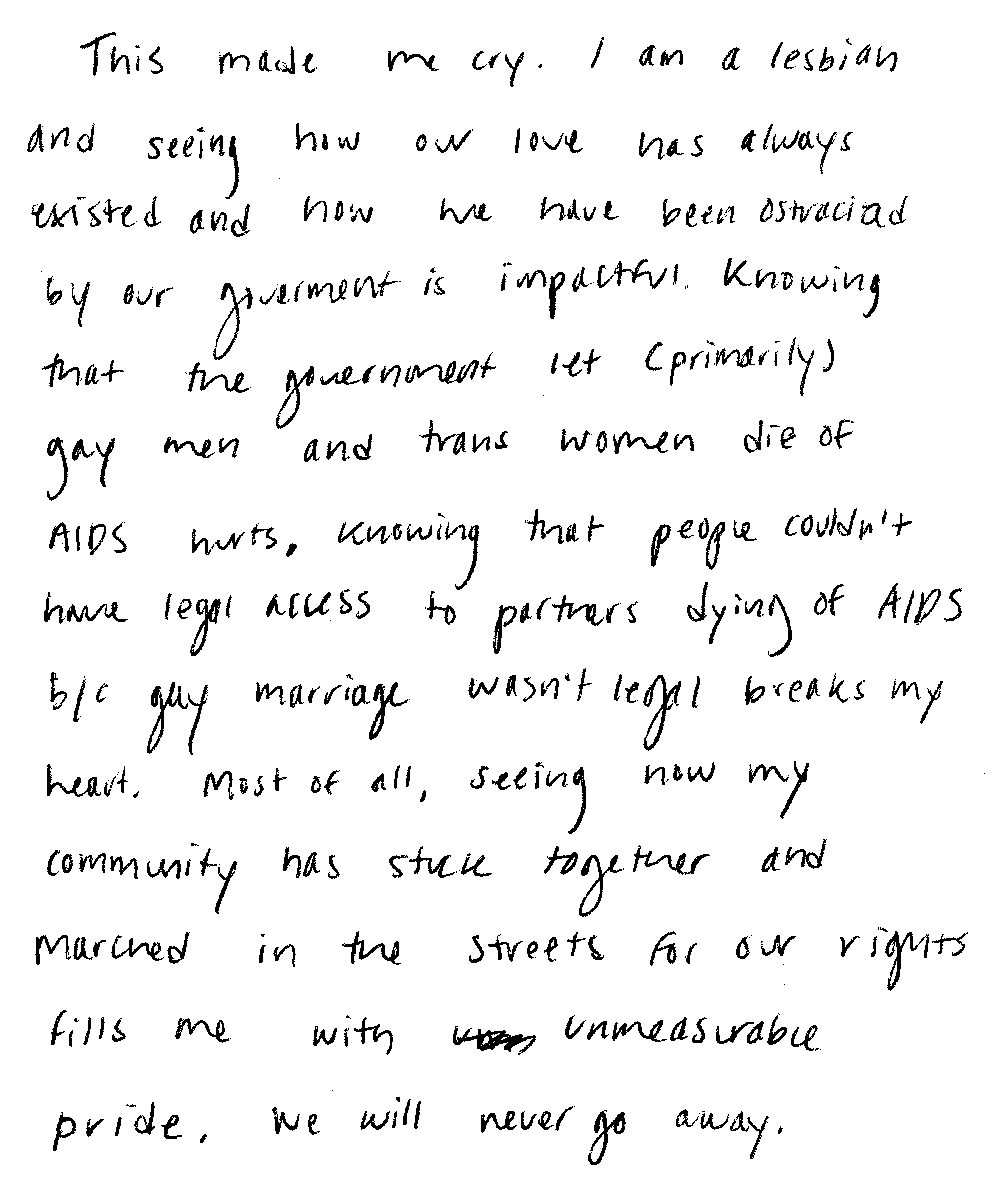 This made me cry. I am a lesbian and seeing how our love has always existed and how we have been ostracized by our government is impactful. Knowing that the government let (primarily) gay men and trans women die of AIDS hurts. Knowing that people couldn't have legal access to partners dying of AIDS because gay marriage wasn't legal breaks my heart. Most of all, seeing how my community has stuck together and marched in the streets for our rights fills me with unmeasurable pride. We will never go away.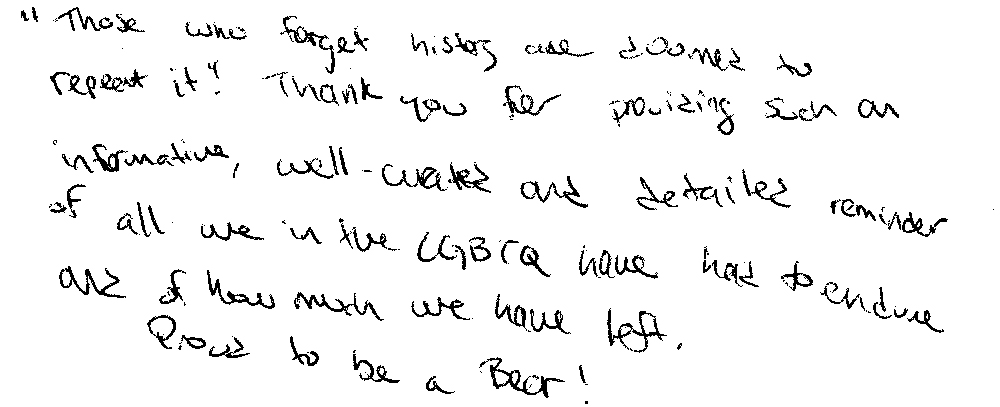 "Those who forget history are doomed to repeat it!" Thank you for providing such an informative, well-curated and detailed reminder of all we in the LGBTQ (community) have had to endure and of how much we have left. Proud to be a Bear!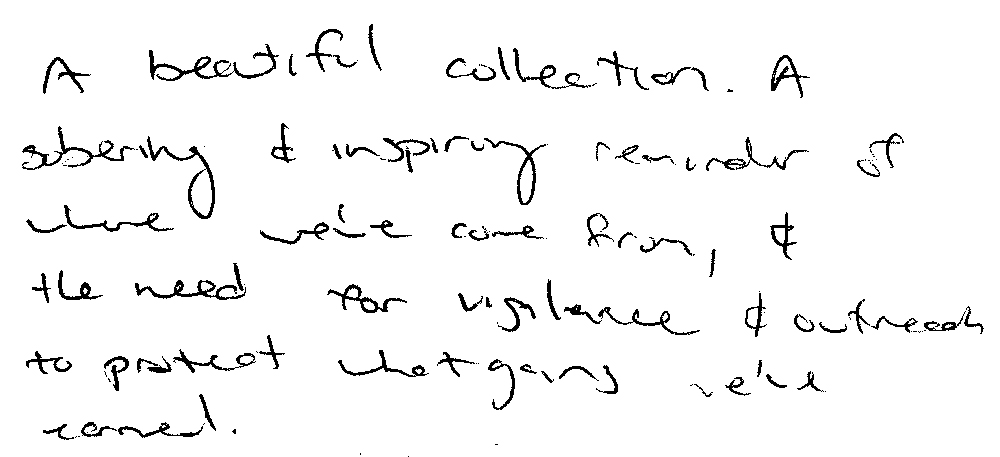 A beautiful collection. A sobering and inspiring reminder of where we've come from, and the need for vigilance and outreach to protect what gains we've earned.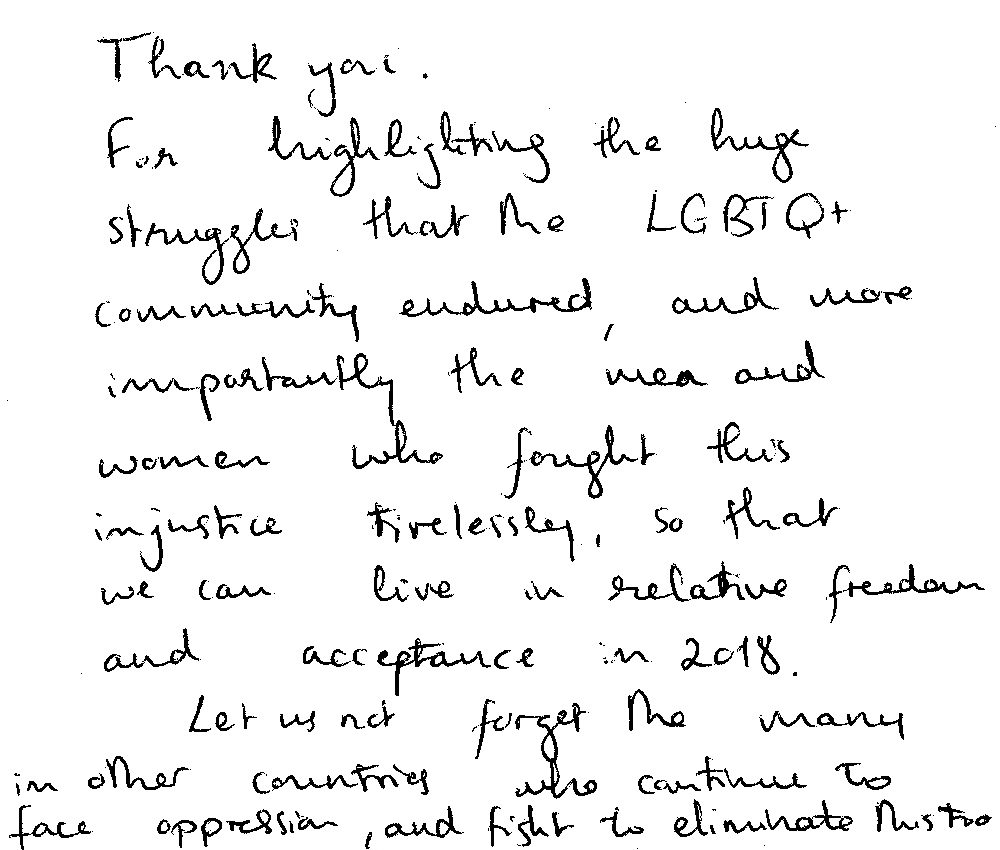 Thank you. For highlighting the huge struggles that the LGBTQ+ community endured, and more importantly the men and women who fought this injustice tirelessly, so that we can live in relative freedom and acceptance in 2018. Let us not forget the many in other countries who continue to face oppression, and fight to eliminate this too.
To support the Library's exhibits and educational programs, contact the Library Development Office at 510-642-9377 or give@library.berkeley.edu.