We expand horizons.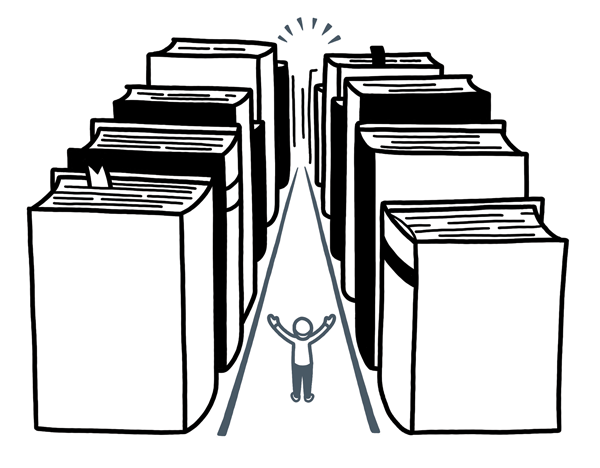 Our massive vault of information is getting even bigger
Eleven floors. More than 400,000 linear feet of shelving. Over a billion dollars' worth of materials in a variety of formats, from books to newspapers to audio recordings to motion pictures. Located 7 miles northwest of Berkeley, Richmond's Northern Regional Library Facility, or NRLF, is an information lover's paradise. A virtual fountain of shared knowledge, NRLF stores materials from University of California libraries across Northern California and ships them to libraries within the UC system and beyond. With 140,000 new items each year, NRLF is facing an imminent shortage of space. In March, the UC Regents gave approval and full funding for the expansion of the facility. The move will boost NRLF's capacity by 3.1 million print materials, ensuring a cost-effective way to store valuable knowledge for years into the future. "All of my research depends on NRLF," says Victoria Frede-Montemayor, a professor of Russian history at UC Berkeley and a strong supporter of NRLF's expansion. "It's a repository, it's a library. It's a magical thing."
---
The Center for Connected Learning: A place for discovery
As the digital age continues to alter the way students work, learn, and consume — and even create — information, the Library is quickly evolving. In 2016, Moffitt Library opened the doors to its reimagined fourth and fifth floors. And soon, the library's remaining three floors will undergo transformations of their own, as Moffitt completes its metamorphosis into the Center for Connected Learning, an innovative space for creation, collaboration, and reflection. This spring, the Library hosted workshops inviting faculty, students, and staff to share their ideas about the future of Moffitt. The ideas that emerged will lay the groundwork for the design process and will inform the ultimate vision for the library. "It ought to be a place to start but not to end," says Cathy Koshland, vice chancellor for undergraduate education. With support from Chancellor Carol Christ, and the generosity of donors — including a gift of $2.5 million from Al '62, M.B.A. '69 and Marguerite '60 Johnson — that new vision has never been closer to becoming a reality.
A new life for old materials
This year, we continued to rapidly digitize our materials, including an impressive collection from UC Berkeley professor emeritus and author Robert Allen documenting the Port Chicago disaster. The tragedy killed more than 300 people — most of them African American sailors — about 5 miles north of Concord in the single greatest loss of life on the homefront during World War II.
---
16
Moffitt Library not only serves as a destination for discovery, but also for wellness. Starting this spring, Moffitt hosted 16 wellness sessions promoting mindfulness and meditation, open to anyone in the campus community wishing to focus their mind, unwind, or de-stress.