We break barriers.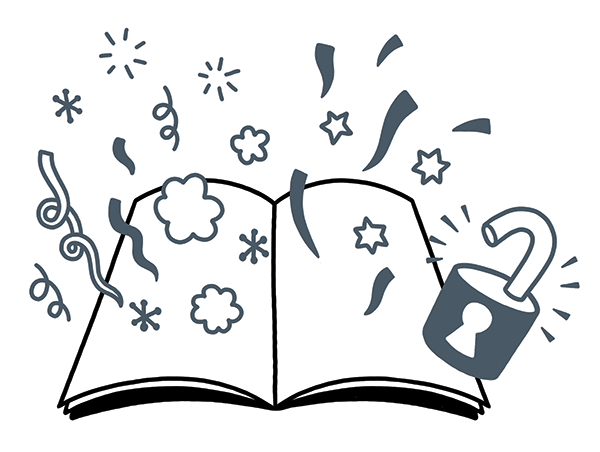 Unlocking knowledge for everyone
What good is information if it's locked away? Through the efforts of the Office of Scholarly Communication Services, the Library has been working to free the knowledge at Berkeley and beyond, making information more accessible to everyone. With the support of Arcadia, a charitable fund of Lisbet Rausing '84 and Peter Baldwin, the Library launched a program that provided students with free or openly available course materials. UC Berkeley also added PressbooksEDU to its suite of publishing platforms, allowing anyone in the campus community to publish a free-to-read digital book. To empower others to achieve open access, the Library took a leading role in creating resources such as an online toolkit and a working forum that provide insight into building a framework for a new publishing model. "We are delighted to support UC Berkeley Library's work to further open access," says Baldwin, co-founder and chair of Arcadia. "When research and data are no longer behind paywalls, everyone benefits."
---
'A library for undergraduates, by undergraduates'
Students as experts? Yes, please. Last fall, the Library undertook a grand experiment: the Library Undergraduate Fellowship, designed to leverage students' unique skills and backgrounds and challenge them to grow as researchers, creators, and mentors. As experts in categories ranging from data science and digital humanities to media editing and Makerspace (a design and innovation hub in Moffitt Library), the undergraduate fellows work on research projects and help other students navigate the Library's web of resources. "Our hope is to create a library that's for undergraduates, by undergraduates," says Nicole Brown, who heads instruction services for the Library and helps run the fellowship program. In fact, at the heart of many of the Library's projects, passions, and services are students. Through the Library's Work+Learn program, more than 800 students have found jobs of all kinds within our walls. Fernando Navarro '18, a geography major, works in the Earth Sciences and Map Library, helping staff digitize a trove of historical maps. "I have a type of brain that enjoys it," he says.
To support the Library's Work+Learn program, contact the Library Development Office at 510-642-9377 or give@library.berkeley.edu.
A never-ending classroom
Students shouldn't be confined to labels — or their majors. This year, the Library helped students secure free, unlimited access to a world of knowledge outside the classroom through Lynda.com, an online learning platform boasting nearly 7,000 courses on topics ranging from web design and programming to photography and creative writing.
---
832
Through our Work+Learn program, the Library employs more than 800 students each year, making us one of Berkeley's largest student employers.